Philbin Manufacturing is a well established; family owned company, continuing a father-son tradition begun in 1923. During that year, Anthony Neisz and Carl Philbin started a business that provided battery chargers, then called rectifiers, to a community
just beginning to understand the importance of confinable, portable electricity.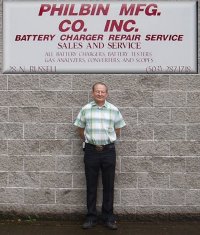 Anthony sold the business to his son George in the early 1950's. By then Philbin Manufacturing was deep into professional automotive electrical maintenance. In the mid 1950's, Philbin Manufacturing bought a company called Superior Products and added rebuilding vehicle distributors to its sales and service. Philbin Rebuilt Products was formed and soon became an industry leader in distributor sales and service.
George sold Philbin Manufacturing to his son Anthony in 1972. Now Tony and his son Joe are remanufacturing, repairing and selling every kind of battery charger, power source, test equipment and vehicle distributor the automotive industry offers.
After all the changes the years have brought their way, it's real easy for the owners of Philbin Manufacturing and Rebuilt Products to say:
Let Us Help Build a Solution for You.